NYC Hypnotherapists, NYC Hypnotists and NYC Hypnosis Web Pages
located in New York, NYC (New York City),

If you found this page by using a search engine, click here to go to our home page at www.healthwithhypnosis.comI
ff you found this page by way of The Self Hypnosis Web Page click here to go the home page at www.thehypnosisclub.com.
If you came to this page by using our Hypnotherapist Directory page on www.HypnosisCenter.com
simply close this window to return to the directory and the Hypnosis Center web site.
---
Shauntay Williams, C.H
NYC Certified Hypnotherapist and NYC Hypnotist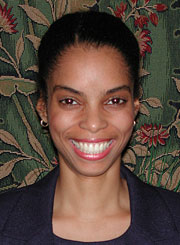 Description of Practice:
Ericksonian Hypnotherapy

Humanistic Hypnotherapy
Performance Specialist - Stage Fright
Nutritional Guidance - Weight Loss Specialist
Stop Smoking and Healing Specialist
Web Site: http:/www.healthwithhypnosis.com
E-Mail: shauntayw@aol.com
---
Performance Specialist: Specializing in Stage Fright, Weight Loss and
Feminine Issues
Ms. Williams clientelle love her and she brings a vast amount of experience in the session room.
Besides being prominent in the acting community, Shauntay spent many years as a social worker
working with battered and abused children.
When she applied herself to hypnosis, she went full throtle. She formerly worked for the New York
'franchised-chain' hypnosis clinic - Dynamic Changes where a typical day, she saw 7 to 10 clients
a day with a vast amount of issues.
Ms. Williams, studied in both Ericksonian and traditional hypnosis,
now specializes in 5-Path hypnotherapy (primarily weight loss and performance anxiety)
at the Hypnosis Center..

---
Training & Certification
---
Background:

Four years in Dynamic Changes Hypnosis Center where I saw 10 clients a day taught
me quickly the dynamics of the fully functioning mind.
Two years working with John Petrocelli at the Hypnosis Center doing Abreactive
Transformational Hypnosis.
-Institute for Advanced Neuro-Research & Education-George Bien Ph.D.-Advanced Clinical Hypnotherapist

-ABH Certified Ericksonian Hypnotherapist-Doug O'Brien & Associates
- Positive Changes Hypnosis - with Dr. Patrick Porter - C.H.
- The Society of Applied Hypnosis - C.Ht. - with John Petrocelli
-Certified 5path & 7 path Hypnotherapist- The Hypnosis Center Clinical Hypnotherapist
- Somnambulistic Sleepwalkers Hypnosis and NLP Study Groups
This information is provided by The Hypnosis Center for Training Services, Inc. as a free service to our
graduates and those seeking information about how to contact an Society of Applied Hypnosis Certified
Hypnotherapist who is trained in Transformational Hypnotherapy.
---
Hypnosis Free Links

The NYC Hypnosis Center
http://www.healthwithhypnosis.com
New York City's Cutting edge hypnosis and hypnotherapy facility and home
of the Society of Applied Hypnosis, Inc.

Somnambulistic Sleepwalkers Hypnosis Practice Group
The world's largest FREE hypnosis, hypnotherapy, NLP, EFT Study and Self Improvement
Group - dedicated to hands-on approach to self healing.

Midtown NYC Hypnosis Center Branch of New York (Manhattan), NYC
Bill Lukas manages the annex of this popular hypnosis center located conventiently
near the United Nations building and serving many on NYC's social scene and luminaries
in politics.
Join the Somnambulistic Sleepwalkers On-Line Discussion YahooGroup
Learn about meetings, chapters in your area, how to get involved, techniques for
Self growth, etc.
http://groups.yahoo.com/group/SomnambulisticSleepwalkers/
THE WORLD'S BEST HYPNOSIS AND HYPNOTHERAPY TRAINING CERTIFICATION COURSES

---
THE SOCIETY OF APPLIED HYPNOSIS, INC.
NYC HYPNOSIS AND HYPNOTHERAPY TRAINING
BECOME A CERTIFIED HYPNOTHERAPIST
The little known industry fact is that many well-known instructors teaching
hypnosis and hypnotherapy courses are not doing one-on-one sessions with
clients. Some never have and some have worked with very few.
If you want to learn how to do something, learn from those in the trenches.
Learn to do sessions from the viewpoint of those in the field, not from
a hypothetical point of view.
Train with John Petrocelli, Michael Anthony, Angela Cabela and the Staff
of New York's premier Hypnosis Center.
---
HYPNOSIS FACTS:

-WHAT'S A TYPICAL NYC HYPNOSIS SESSION LIKE ?
- WHAT ABOUT THOSE HOLLYWOOD MYTHS - IS SOMEONE GOING TO CONTROL ME ?

---

copyright 2004 -NYC hypnosis center llc